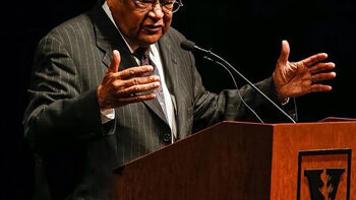 VU names new institute for civil rights chief | Training
Vanderbilt University creates a new institute to be named after Nashville civil rights veteran Rev. James Lawson.
The James Lawson Institute for the Research and Study of Nonviolent Movements will open in the fall and provide public workshops, seminars and training for "the next generation of community organizers with the skills are equipped to bring about meaningful, sustainable changes ", it says in a press release.
Lawson moved in 1958 after meeting Dr. Martin Luther King Jr. to Vanderbilt Divinity School, who urged him to move south. Lawson and other students from Vanderbilt, Fisk University, Tennessee State University, and other local colleges formed the Nashville Student Movement, an organized initiative that included sit-ins in downtown and led to the integration of Nashville businesses.
Vanderbilt expelled Lawson in 1960, but later reconciled with the school and returned as a respected university professor. Lawson previously donated his papers to the special collections of the Jean and Alexander Heard Libraries and the University Archives.
He will be the main advisor to the institute.
"The James Lawson Institute will promote research into the history and contemporary practices of nonviolent movements and will work with program initiatives in the university, the city of Nashville, the state of Tennessee, and across the country to provide opportunities for dialogue, intergenerational forums, and nonviolence training "Phillis Isabella Sheppard, director of the institute's faculty and professor of religion, psychology and culture at Vanderbilt, said in the press release.