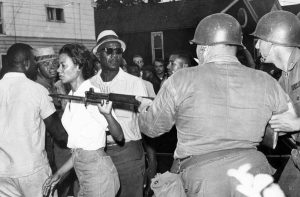 'Influential But Unsung' Civil Rights Pioneer Gloria Richardson Has Died at 99
July 19, 2021 |
:
Gloria Richardson, "an influential but largely unsung civil rights activist," died in New York City at the age of 99, reports The Associated Press.
Organizing the Cambridge Movement on the east coast of Maryland in 1962, Richardson became the first woman to lead an ongoing civil rights movement outside of the deep south. The movement included sit-in strikes to break down racial segregation in restaurants and public places.
"Everything the Black Lives Matter movement is working on right now is a continuation of what the Cambridge movement has done," Joseph R. Fitzgerald, who wrote a biography of Richardson in 2018, told The Associated Press.
Richardson is still known as one of the leading civil rights activists within the black community. She earned a bachelor's degree in sociology from Howard University in 1942 and advocated jobs, access to health care, and adequate housing.