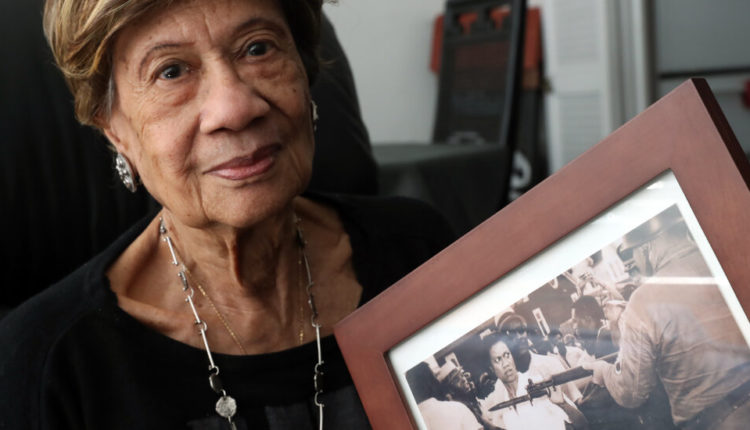 Gloria Richardson, Uncompromising Civil Rights Advocate, Dies at 99
Ms. Richardson was invited to speak at the March on Washington in August 1963, though organizers flinched when she showed up in her signature jeans. She compromised on a denim skirt. Shortly before Dr. King's speech rose to the microphone to say something, but was interrupted after she said "hello," apparently out of fear that she would say something unusual.
The Cambridge protests continued in 1964, although Mrs. Richardson, out of consideration for the Attorney General, whose brother President John F. Kennedy was assassinated in November 1963, dampened her street activism. She co-founded the organization Act, which campaigned for systemic change and economic justice in the north.
Ms. Richardson was encouraged by the enactment of the Civil Rights Act of 1964, which not only enforced desegregation but also tackled workplace discrimination and education. By that point, she had decided to retire from the Cambridge Movement, partly because of the stress, but also because she was careful not to become an icon – better, she said, if new leaders took the lead.
And they did. Her departure coincided with the arrival of a new generation of activists such as Stokely Carmichael and the Black Panthers, who came across Dr. King and others looked away, accepting the kind of change Mrs. Richardson had emphasized.
"They viewed Ms. Richardson as some kind of uncompromising black radical leader to emulate," Joseph R. Fitzgerald, associate professor of history at Cabrini University in Radnor, Pennsylvania, and author of "The Struggle Is Eternal: Gloria Richardson and Black Liberation, "he said in an interview. "It showed that you shouldn't be satisfied with half a loaf of bread. You should take everything. "
Gloria St. Clair Hayes was born in Baltimore on May 6, 1922, and moved to Cambridge with her family at the age of 6. Her father, John Hayes, owned a pharmacy and her mother, Mabel St. Clair, was a housewife.
The St. Clairs were one of the richest and most influential black families in Maryland. Her grandfather, Herbert St. Clair, was the first black member of Cambridge City Council.