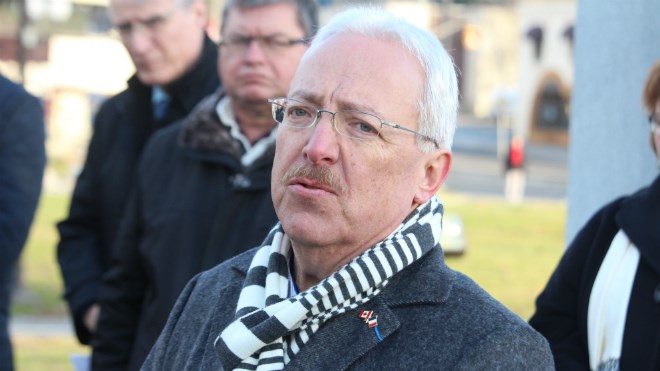 Compensation declare negotiations: Forcibly retired Laurentian prof expects to obtain 'peanuts'
LU, union officials are currently negotiating a separate application process for terminated employees
A Laurentian University professor who lost his job as part of the university's bankruptcy restructuring earlier this spring says he's expecting "basically peanuts" when he finally sees some of the severance pay he owes.
"That was the message that was unmistakable from the start," says Jean-Charles Cachon, who taught business at Laurentian until he had to retire this spring due to the university's cuts.
"We have been told that since February. The term used was cents on the dollar. But there is no indication of whether it will be half a cent or two cents. I mean, basically there will be nothing for people who help shape this institution.
"I'm not expecting anything really substantial, and unfortunately for people who are in the middle of their careers and should have received adequate compensation, this is unfortunately not going to happen.
"That's the worst part of all of this. There is no way people can win anything back. "
Cachon, now known as a professor emeritus in the Faculty of Management, is also the former Secretary-Treasurer of the Laurentian University Faculty Association (or LUFA).
Sudbury.com also reached out to LUFA President Fabrice Colin but had not heard from until this article was published.
Cachon said he wasn't expecting any money from his former employer until 2022. "If we talk about payments and whenever people get even the smallest possible amount of compensation, that won't happen until next year," he said.
University lawyers and unions representing the 194 laid-off full-time workers are still negotiating the methodology by which workers' compensation claims are calculated.
The workforce laid off by Laurentian this spring includes 116 full-time faculty positions (members of LUFA), 41 unionized staff (members of the Laurentian University Staff Union or LUSU) and 37 non-union positions (including 24 in management and Leading position).
Former Laurentian employees seeking their severance pay will face a different process than Laurentian's other creditors, who have been asked to file claims against the university by July 30th.
A court order issued in late May under the Laurentians Companies' Creditors Arrangement Act (CCAA) states that Laurentian's attorneys should return an application to the court on how to deal with employees by July 30th at the latest.
The application requests approval of the methodology for employee compensation claims, as well as the process for notifying employees and claims handling.
Union officials tell Sudbury.com that claims will be filed against Laurentian on behalf of the laid-off workers once the methodology is in place.
Laurentian University Staff Union (LUSU) President Tom Fenske said he believes the parties are "close" to developing a compensation methodology.
"We are still talking to our lawyers about what this will look like," he said.
Once this is achieved, the first step is to determine how much is actually owed to employees and the second is how much to distribute in the pot.
"You have to remember that they're in there with banks and all sorts of other groups, right?" Said Fenske.
He said he had let his members know that a lawsuit was being filed on their behalf and "no one will miss a deadline … we will make sure of that on our side".
Cachon said the CCAA process, which was developed for private companies, is completely inadequate for universities to work.
He said his personal opinion was that both the federal and provincial governments threw Laurentian under the bus.
"They spend billions of dollars on private companies," he said. "If we're being treated like a private company, why don't they save us too? There are so many contradictions to what is going on right now. That's crazy."